Unless you are a millennial or part of Gen Z, you might not be fully ingratiated with every last social media option out there. Fifteen years ago, the internet's extent of social interaction options (outside email) included AOL messenger, Windows Messenger, Skype, and Facebook – which made its debut in 2004 exclusively for Harvard students, and a month later it expanded its exclusivity to all Ivy League students. YouTube joined the scene in 2005, Twitter in 2006, Tumblr in 2007, Pinterest and Instagram in 2010, and Snapchat finally joined the social media scene in 2011. Keeping up with each and every addition to the social media sphere can be daunting at times, especially when it takes off faster than engineers can build third-party apps to streamline marketing and analytic efforts.
That's where this article comes in to save the day.
Snapchat is 8 years old, but it didn't start offering analytic supports until this year, and at that, it's only available to a select few "influencers" and users with "large audiences" as beta testers of the new Insights feature. Until Snapchat can get up to snuff, there are a few other options for you and this article will go over all of them.
Even simpler than analytics, marketing brands through Snapchat is its own beast. Marketers either love Snapchat or hate it outright – rather polarizing. The issue for some marketers is that it goes against everything they know to be true: the pictures and videos (snaps) are not supposed to be high quality, should include cheap drawings, filters, and stickers, and it most definitely should include fleeting, pop-culture references.
A new job that emerged in the last few years is the Social Media Manager, and these are the people who tend to love Snapchat. The social media manager understands that interacting with any user base isn't about million-dollar campaigns and perfectly polished images; it's about getting engagement (e.g., reposts, comments, likes, shares, screenshots, organic memes). Snapchat, like Twitter, is about quick messages, calls to action, highlight updates, behind-the-scenes exclusive insights, authentic-feeling transparency, and short-term promotional codes.
This article will go over why marketing on Snapchat is vital to any organization whose target audience includes anyone below the age of 55. Key demographics and user patterns will also be covered.
Because Snapchat is such a unique platform with a different environment than any other advertising or marketing platform, this article will break down the features available and how to create content on Snapchat's unique interface. Then an outline of marketing strategies will be laid out, along with some best practices to keep in mind while building your campaigns. Lastly, analytics are an elusive concept on Snapchat due to its "disappearing" content, so an explanation is provided as to how best to monitor user engagement, followers, snap and story conversion rates, and content optimization patterns.
Millennials and Beyond…
If you're targeting middle-aged to older audiences, and younger populations would never consider or go near your products, then you can skip Snapchat. That said, it's not common for a product to narrowly target an audience to the point that all others are irrelevant (relevant exceptions might include retirement homes, medicare, and hip replacements). Consider this: if you have both Facebook and Instagram, you need to also be using Snapchat.
Even if your audience is extremely narrow (let's go with retirement homes), using Snapchat still might not be a bad move. By including it, you might unwittingly expand your user base.
Theoretical Scenario – Using Snapchat to Gain New Audiences
A retirement community decides to go on Snapchat. They start off by taking sweet, brochure-worthy pictures of their residents playing shuffleboard, golfing, dancing, and painting. There isn't much user engagement with this.
They then decide to run an ad campaign where they pay to show up in premium content, and these ads include the same types of pictures, says "Your loved ones will love this next chapter of their life," and has a link to their website. They get a small increase in web traffic to their home page, but nothing significant.
They run the same ad again, but this time they include a promo code specific to Snapchat that makes their first 30 days free. Their website sees a small spike in web traffic and a few additional families register with the retirement community. That's alright, but nothing grand. They don't have but a few dozen followers and almost nobody opens their privately sent snaps.
Is it worth it for this retirement community to keep up with Snapchat? Well, consider this change in tactic: the retirement community knows it lives in the same state as an "influencer." Ross Smith is a millennial who posts on Instagram and Snapchat with his grandmother. The appeal behind this influencer is the comedic approach, having his grandmother say double entendres, wear suggestive shirts, and participate in social media trends (e.g., throwing balls into small objects that are far away by using a third surface – trick shots, doing the tik-tok dance).
The retirement community reaches out to Ross Smith and asks for a partnership. Ross Smith agrees and brings his grandmother there and they continue their comedic antics, but on the grounds of this retirement community, with their residents, and linking to the community's official Snapchat and website. Their followers increase to 3,000 and user engagement goes through the roof. Their user generated content (UGC) is funny and original, so they start reposting those snaps and their user base continues to grow exponentially. This was a successful use of Snapchat to engage an entirely new audience and increase awareness of their organization.
DEMOGRAPHICS & STATISTICS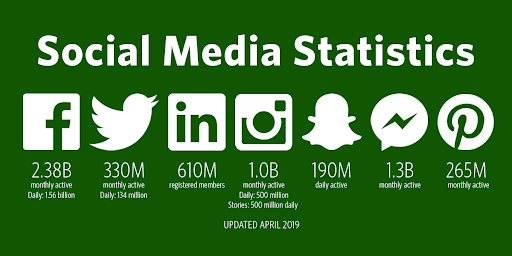 May 2018 – Daily Active Users: 191 million
Daily Active Users: 186 million (as of 5 February 2019)
Average of 30 minutes daily
Daily Video Views: 10+ billion
Social Media Users who also use Snapchat: 18%
That's 11% of the entire US digital population
76% Snapchat users shop online
Under 34 years old = 75% users
90% users = 13 – 24
70% female and 30% male
Roughly 63% use it daily
Under 24 years old = average 40 minutes daily
50% of all male college students & 77% of all female college students Snap selfies
Over 25% of UK smartphone users are on Snapchat, Norway = 50%
Over 60% of active Snapchat users create original content on a daily basis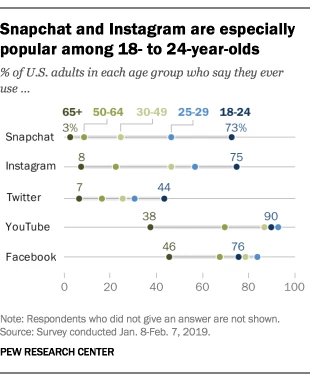 67% use Instagram

76% of users use the app every day, 60% multiple times/day

62% use Snapchat

77% of users use the app every day, 66% multiple times/day
57% use Instagram
47% use Snapchat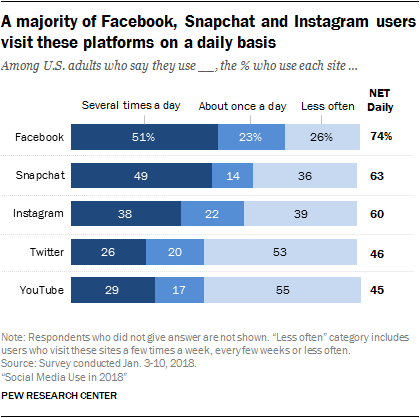 49% Snap users access platform multiple times a day

63% (of total users) access platform at least once a day (daily)

77% of snapchat users also use Instagram (cross-platform interactivity/reciprocity)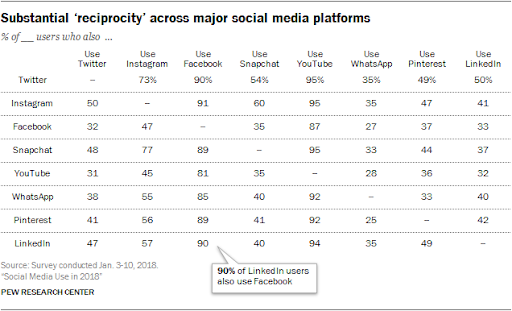 Others
Facebook's Daily Active Users: 300 million (as of 16 April 2019)
Instagram's Daily Active Users: 500 million (as of 16 April 2019)
Custom Filters on Snapchat can be seen by 40 – 60% of daily users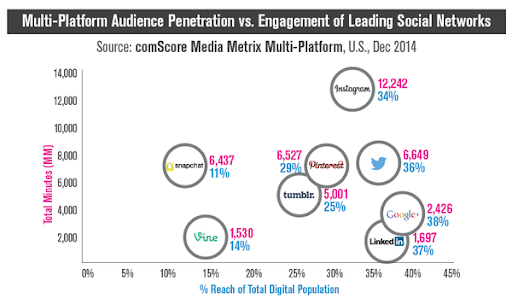 "Of the social networks pictured in the chart, popular photo-sharing site Instagram leads all with 12 billion minutes in time spent, while Snapchat, the ephemeral photo and video messaging app, racked up about half of that — an impressive mark given its more narrow user base and lower overall audience reach," according to Comscore.
USING SNAPCHAT: BASIC FEATURES
Snaps: Pictures and Videos on Snapchat
These can be sent to individual people, added to your "story," or added as a public post (viewable to anyone looking at those storyboards or at posts in a geographic location).
Pictures
By pressing the circle at the bottom of the screen (in app), you will take a picture that can then be edited and added to your story, added to other storyboards, made publicly available to anyone (geotagged so people looking for snaps in a geographic location will come across your snaps), or sent privately to individual people.
Videos
By pressing and holding down the circle at the bottom of the screen (in app), you will take a video that can then be edited and posted accordingly. An individual video can be 10 seconds in length, but you can continue to record past those 10-seconds, and the entire recording is separated into 10-second snippets that will be posted together. After releasing the recording button, the video will automatically replay itself in a continuous loop as you edit it (unless you tap the screen to pause it). When satisfied with the edits, you can post the same as with pictures. (Click the link for additional information about incorporating video in your marketing strategy.)
Stories: My Story
Your story is where you choose to add snaps in sequence, within a 24-hour timeframe, and it is publicly available to all your contacts (or the entire world if your preferences are set to public – highly recommend setting your business account to public).
Memories
You can save individual snaps and stories to your memories for later (after they expire in your story or DMs).
SNAPCHAT: EDITING FEATURES
After taking a picture or video…
Text
On the top right corner of the screen, there will be a "T." If you press the "T," it will highlight and a rainbow bar will present vertically below it, and a black bar will open across the center of the screen with your keyboard beneath it. If you leave everything as is and simply begin typing, you will have white "classic" text. When you are satisfied with what you have written, you can either press the blue "Done" on the keyboard or press anywhere on the screen above the writing, and you'll see the writing on top of your picture or video. You can press and drag the writing up or down the screen.
If you want to change the color of the text, go back to the "T" (or press on the text itself) and slide the small white button on the rainbow bar down. As you drag it up and down, the circle will change colors, highlighting what color you are hovering over, and the text itself will change simultaneously.
If you want to change the font, go back to the "T" (or press on the text itself) and select any of the options below the text and above the keyboard. There should be Classic, Big Text, Label, Glow, Script, Rainbow, and Subtitle. After selecting any option except Classic, the text will lose the black bar behind it. Now you can resize the text by pinching two fingers (decrease size) or spreading two fingers (increase size). The text can also be repositioned anywhere on the screen instead of just sliding up/down, as such, you can now rotate the text by placing one finger on the screen and moving a second finger left/right to rotate the text.
Drawing Tools
On the top right hand corner, below the "T," there is a pencil icon. Select this icon and a vertical rainbow bar will present below the pencil. Same as with Text, you can slide the white circle down to select a different color. When you have the color you want, simply draw using your finger. You can zoom in on a picture by spreading two fingers, and then draw on the zoomed in image, allowing for extremely detailed drawings.
Note: Some users like to use the drawing tool to write messages. Some users even will take a picture with a black or white background and then draw their written message.
Emojis
When the pencil icon is selected, below the rainbow bar will be an emoji. By pressing this emoji, additional emojis will become available for selection. Select your preferred emoji, then tap the picture where you would like that emoji to be. If you press, hold, and drag your finger (as if you're drawing), the same emoji will repeatedly print on the picture where you drag your finger. Again, like with drawing, you can use this feature to "write" a message.
Stickers
On the right hand side, beneath the pencil icon, is a square outline with a folded corner. Select this "sticker" icon. You will then see a search bar, 5 white images (clock, star, scissor, wink face, smile face), and various images below. The clock has your most recent stickers. The star has featured images (rainbow during pride month, pink ribbons during breast cancer awareness month, etc.). The scissor allows you to create your own stickers from your camera's pictures and your "memories." The wink face connects you to your bitmoji (bitmoji is a customized character representing the owner of the profile) and individual bitmoji actions/images. The smile face is where you'll find all of your emojis, every last one of them.
Links
The paperclip on the right hand side allows you to type in a URL that will link anyone that sees the snap to a website.
Crop
Beneath the paperclip icon, on the right hand side, is the crop icon. By selecting this, you can zoom in on your image and move it around as you please until you have the final image you want to publish.
Time Limit
The bottom-most icon is a stopwatch. By selecting this icon, you can choose how long a picture or video is visible to someone. If you select the infinity (sideways 8), the image will be visible until the user presses the screen, making it disappear and/or go to the next image. For videos, the video will play on a loop until the user presses the screen.
SNAPCHAT: MARKETING FEATURES & BEST PRACTICES
YOUR GOAL = Content Engagement
Snap Ads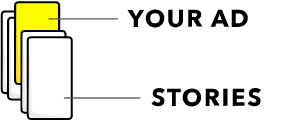 Collection Ads (series of products to tap and buy directly)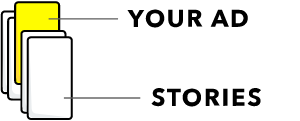 Story ads (sponsored discover tile)

AR lenses (interactive, augmented filters)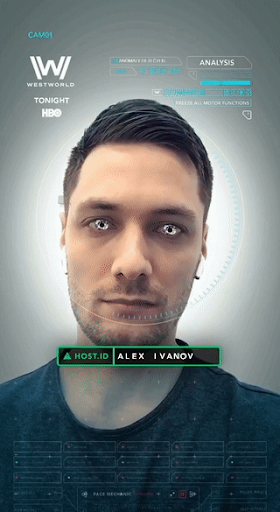 Filters (overlays to add on top of pics and vids)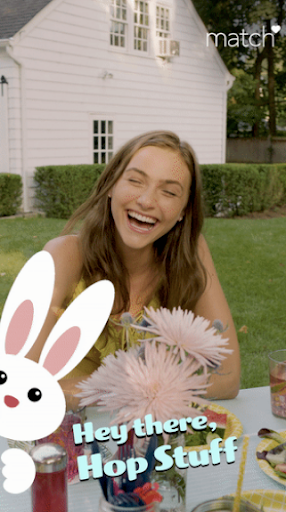 Commercials (premium content adds your 6-second, non-skippable ads)

Coupon/Promo Codes
Using any of the advertisement options listed so far, you can offer discount codes to followers. One strategy is to have a specific code for Snapchat users only, this way when you have people signing up or purchasing items, the promo code will automatically record the fact that a Snapchat user got the code and is engaging. Another option is to have a call to action – request followers snapback selfies with your product (requesting they reach out through private messages or DMs is also effective) in order to get the promo code. This second option allows you to not have to make a separate promo code for Snapchat, and you can note how many users are engaged based on the number of people who message your account.
Building Anticipation
Use your stories to build anticipation of a new product or an upcoming sale or event.
Target Audience
Because the majority of Snapchat users are between 18 and 29, target your content to that age range. Pop culture references and jokes are well-received, and even shared. Taking a campaign from another platform and revising it to be even more lighthearted, unofficial, and humorous will also aide in increasing your follower base and user engagement.
Custom Profile QR Code
Every Snapchat profile has the same 3 pieces: black outline/background, yellow square with rounded edges and holes/dots on it, and a white ghost in the middle.
Consider, once you are satisfied with your Profile QR code, making it your profile image on Facebook, Instagram, Twitter, Pinterest, Tumblr, and wherever else you have a following. Even just a couple weeks with this as your profile picture will help to muster up some followers, especially if any of your other social media platforms have a serious following. You could even do a (potentially featured) post on Instagram, Pinterest, Twitter, and/or TikTok with your Profile QR code, and don't forget about advertising it across Facebook.
GHOST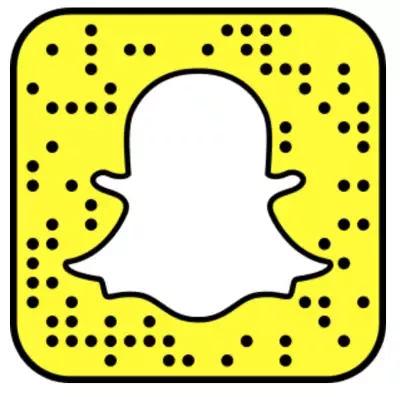 The official recommendation by Snapchat is to not change the black background or QR code, and to leave the ghost background white. However, you can add an image or logo inside of the ghost, change the QR code, and change the background color to a company color, so long as it is one color and not textured.
Amazon followed Snapchat's advice and maintained the black background and white ghost, while adding their iconic "a" and logo arrow within the confines of their ghost.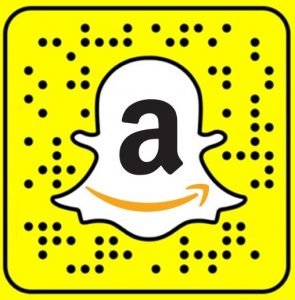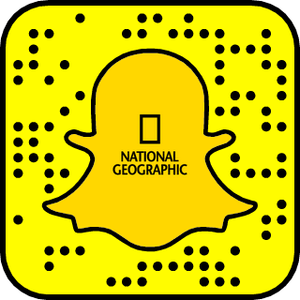 Whereas National Geographic chose to fill their entire ghost, which isn't against any rules. It's not suggested to fill in the entire background of your ghost because it can decrease the sharpness of the contents. White is considered negative space, balancing out the colors and images involved.
Note: If you compare the three profiles (unknown blank ghost, Amazon, and National Geographic), you'll notice that the black dots on the yellow squares of each profile is unique. No two profiles will have the same combination (number, placement, spacing) of black dots, making a unique QR code.
QR CODE
You can chose to edit your QR code, which is not suggested by Snapchat. One idea to consider is turning your QR code into a hidden message. Social media lights up after any "hidden" messages are unearthed. Now, how you hide the message is entirely up to you and this is where creativity gets brownie points. Also, if you hit a certain number of (active) followers and nobody has unearthed this hidden gem of yours, you can always "release" the knowledge somehow. You could anonymously post on Reddit the "found" hidden message, or your organization can make a public announcement (Twitter, anyone?) that the first person to find a hidden message on one of their social media pages gets a $500 Amazon gift card, or a year's subscription, or maybe a prize of up to $500 in free products from their website.
A couple of "hidden message" ideas include turning the QR code dots into a braille message – a one-time use coupon code or a "secret" website address (think elgoog). Another idea is to have it so that if someone drags and drops the QR code into the organization's website homepage, it'll "unlock" something like a secret product, or it causes a random discount amount to be applied to your order, or it produces a game on the homepage.
For an example like this, go to the UK Vogue website, then on your keyboard press the following keys in succession: up, up, down, down, left, right, left, right, b, a. (If you don't see a dinosaur pop up and run across the screen, you messed up.)
SNAPCHAT ANALYTICS
There are currently 5 ways of calculating your Snapchat data, but before I go over those, let's figure out what we need to monitor.
Number of snaps – total, plus individual videos and pictures
Number of stories – total, plus individual videos and pictures
Rates of views per post/story (total and average) – Conversion Rate
Rates of screenshots per post/story (total and average) – Conversion Rate
Send private snaps to viewers and count how many are actually opened, screen-shots, replied to with snaps (video or picture), replied to with DM, and left unopened. (This is a technique to intermittently take stock of your viewer impact and audience engagement.)
If you choose to snap out codes, make the codes Snapchat specific so that when they are used, you can track them.
If you choose to have audience send private snaps or DMs in exchange for codes, that is another way to track interactivity without necessarily requiring a separate promo code for Snapchat.
You could even go so far as to categorize the type of snaps you're doing (funny, tongue-in-cheek, innuendos, anticipation for future campaigns, 3rd party partnerships, cross-advertisement, call to action – snaps for codes or instas for snap codes) and use conversion rates (opened/total, unopened/total, views/followers, screenshots/followers) to determine which types of snaps and stories are causing the most user engagement.
Now for how to run and document your analytics…
MANUALLY
You can always do it yourself, or hire an intern to keep on top of all the data. Build a spreadsheet that will allow you to continue to record across time in all categories, and automatically performs the basic calculations you need (rates, averages).
Alternatively, you could have an intern do it once every 6 months as a way of random sampling to see changes across 6-month periods, versus every single day and long-term data that requires stronger softwares to keep up with the analyses.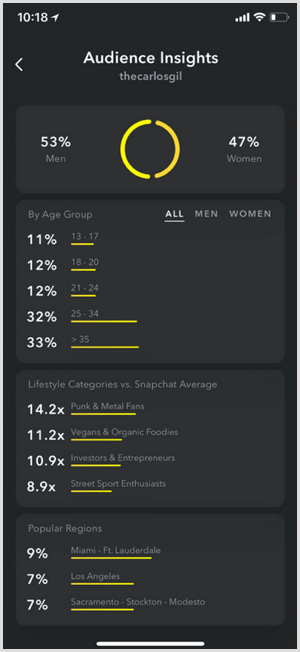 SNAPCHAT INSIGHTS
Snapchat recently released a beta test of its Insights feature for influencers and verified brands that have a large following. Snapchat has not specified what, exactly, qualifies as a "large" following.
To see if you have it go to your dashboard by clicking on your bitmoji in the top left corner of your screen, and Insights will be right below My Story. If you have it, tap Insights to see all of your analytics
This software allows you to create, schedule (queue content to automatically publish when planned), and manage content all in one place. It includes a function to repost UGC (received snaps). It also includes the following functions: a story editor, automated analytics, story monitoring, industry benchmarks (compare your ratios to "industry benchmarks"), auto forward ("post stories from multiple sources without being logged out"), custom reports and export reports as CSV files, permission management (control how much access each team member has), messaging ("reply and message your followers on snapchat"), API access, and a seamless team collaboration platform.
Its analytics specifically include audience engagement (open and completion rates, longitudinal comparisons), story level engagement ("track screenshots, replies, and when viewers drop off to optimize the length and flow of your stories"), number of followers, and tracking follower acquisition funnels.
CONVIVA Social Insights (previously DELMONDO)
This software allows you to track individual snaps, stories, and daily/weekly/monthly account performance records. Its metrics include documenting number of views per snap and per story, unique viewers, impressions, completion rates, and screenshots. On top of those metrics, it also compares the performance metrics of all snaps and stories across accounts, allowing you to evaluate the performance of different Snapchat accounts against one another or to create a portfolio cumulative evaluation for an entire marketing company. Conviva also archives all of your Snapchat content – past, present, and future – so you will never lose track of prior campaigns and techniques employed.
This software includes a dashboard, Studio, for content creation, and allows for queued content – scheduled publishing. For queued content, there is an option to publish at predetermined future dates and times, or you can allow their algorithm decide on the perfect moment to publish based on live user analytics. Their Autopilot feature takes it a step further and publishes content to both Snapchat and Instagram. Other features include archives and team management (control how much access each member has).
The specific analytics Storyheap tracks are stories, open rates, views, completion rates, and follower engagement. Custom analysis reports can be exported as a PDF, CSV, or through email.
For additional strategies and marketing tips, don't be afraid to contact us with your questions or comments.